K ö nigdorn Konig mechanical mandrel clamp E-type structure
---
The company's main products include CNC tools, K ö nigdorn fixtures, domestic fixtures, Silmax tools, DC taps, intelligent manufacturing and processing, and actively designs automated non-standard customized products for customers' practical applications and provides overall processing technology solutions.
CNC tool, K ö nigdorn clamp, DC tap
K ö nigdorn Konig mechanical mandrel clamp E-type structure
---
Mechanical mandrel clamp E-type structure
With fully disconnected modular expansion sleeve
Experience in fixture technology
For decades, Koniger has been the main manufacturer of high-precision fixtures, providing fixture products for modern tools and machine tools.
Our complete processing project, in addition to manufacturing various workpiece clamping systems, also includes various clamping mandrels and chucks, including hydraulic, mechanical and hydraulic hybrid.
New type clamp for large clamping diameter
For some large parts, due to the large tolerance of their clamping dimensions, more loose feeding clearance is required. In order to achieve clamping of such parts, Koniger has developed a new type of mandrel clamp with a fully broken modular expansion sleeve.
This type of mechanical fixture is specially used for clamping the fixture with larger diameter. According to the specification, when the expansion is greater than 0.5-1.3mm, this type of fixture can be selected. Clamp clamping can be realized by hydraulic pressure, pull rod or spring structure.
Special clamping system
This new clamping system is composed of a basic shaft body, an expansion sleeve and a pull rod.
The expansion sleeve is composed of several individual rings, which are connected together in a certain elastic range according to the design form.
In practice, this kind of fixture has obtained very good circular runout accuracy not only in gear grinding but also in gear hobbing.
This kind of fixture will be designed and manufactured according to the processing requirements of customers. It can be used for the connection of almost all modern precision machining machines. As a result, customers can obtain better accuracy, greater flexibility and shorter replacement time.
Product advantages
1. High wear resistance (64HRC)
2. High circular run-out accuracy (0.005-0.010mm)
3. Greater flexibility and repeatability
4. Greater clamping force (with great transmission torque)
5. Larger expansion (larger feeding gap in automatic feeding system)
6. Greater flexibility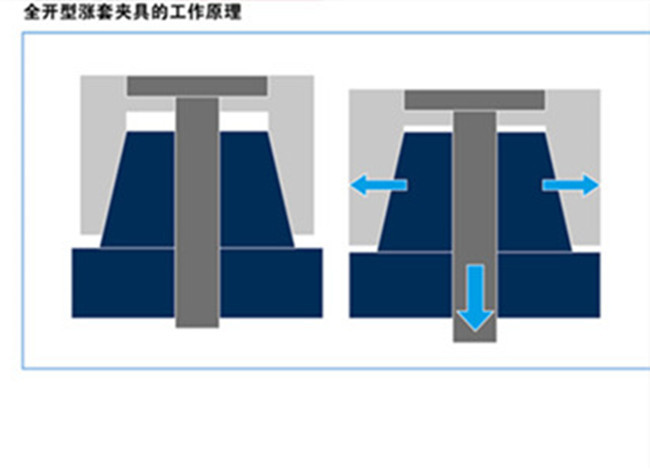 K ö nigdorn grinding wheel sleeve
---
Add: 105-2, Furong Middle Third Road, Xishan Economic and Technological Development Zone, Wuxi, China
E-mail: info@ china-zgtech.com
---